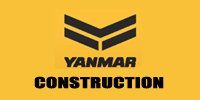 Yanmar Mini Excavators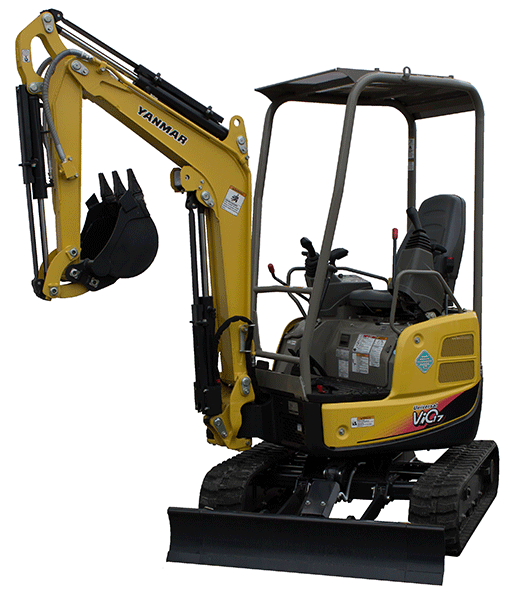 ViO17
No Space. No Problem.
The ViO17-A goes almost anywhere and works efficiently in tight, narrow areas. Our most compact zero tail swing mini excavator goes where larger excavators can't, and works easily against walls or buildings. But its small stature doesn't sacrifice power. The 14.5-hp final Tier 4 diesel engine provides the power you need for the toughest jobs, with dramatic lifting capacity and bucket digging force that belies it's size. Plus YANMAR's unique, sturdy variable undercarriage provides flexibility, stability and safety.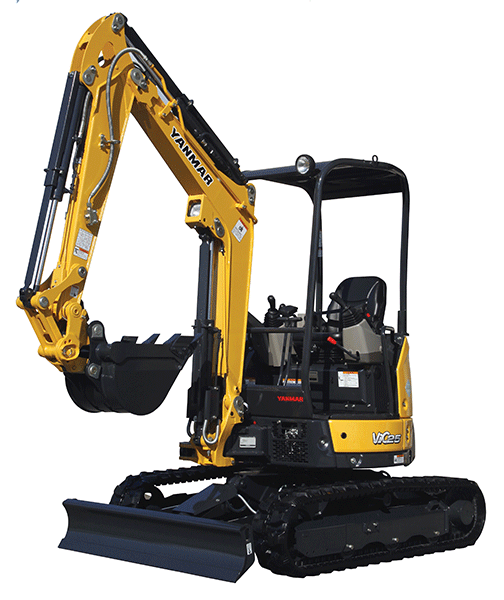 ViO25
Goes places bigger excavators can only dream about.
If you work on tight residential or inner city jobsites, you need an excavator that fits through narrow openings and works comfortably in tight quarters. Meet the new ViO25-6A. This scrappy, go-almost-anywhere true zero tail swing excavator works anywhere you can fit the tracks. It also comes with a fuelefficient 20.4-hp Tier 4 Final engine that delivers unexpected power for its size, with less environmental impact. We apologize if it gives those bigger excavators nightmares.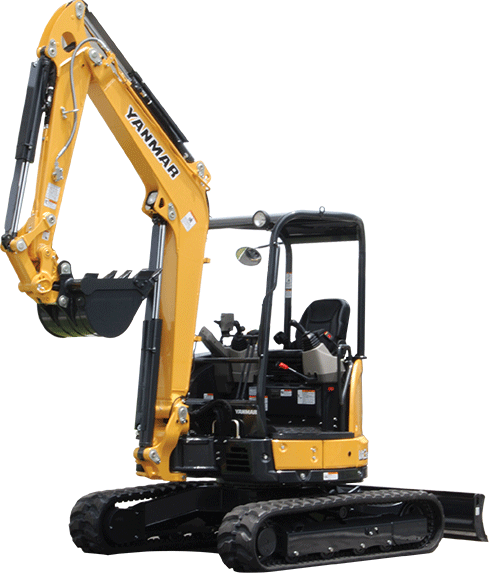 ViO35
The most advanced excavator we've ever made.
Introducing the most innovative, fuel-efficient excavator we've ever built. The advanced technology zero tail swing ViO35-6A features an electronically controlled Tier 4 engine that meets emissions regulations without the need for a diesel particulate filter. It also comes standard with ECO and Auto-Deceleration modes for even more operational efficiency, which means the new ViO35-6A can now deliver up to 20% less fuel consumption than previous models. The YANMAR ViO35-6A is the most productive digging, lifting, do-anything excavator you can buy.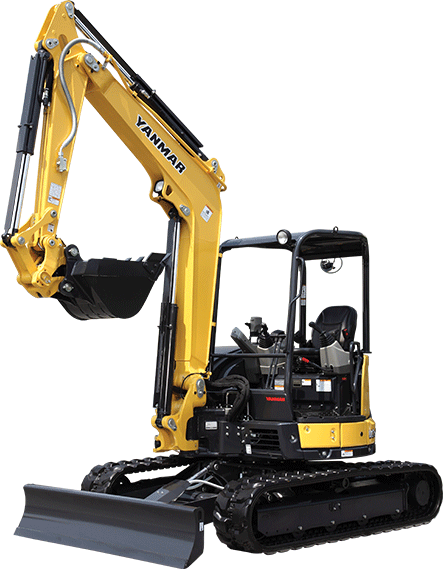 ViO50
Power. Speed. Dependability.
In 1993, Yanmar introduced the world's first zero tail swing excavator. Today, the ViO50-6A turns completely within its own tracks, with the stability of a conventional excavator. So you can trench and dig in the extremely tight spaces that other excavators simply can't get to. Add to that a new 39-hp Final Tier 4 Yanmar diesel engine that sacrifices none of the legendary power and unmatched fuel efficiency that's been part of Yanmar's legacy for more than 100 years, and you'll always be the guy they call when conditions are the toughest.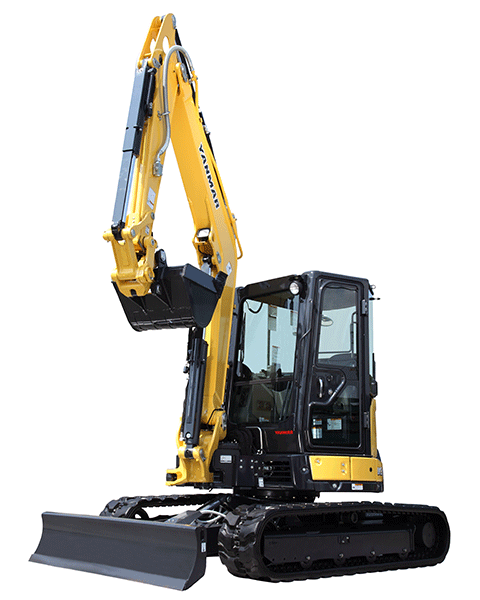 ViO55
Power, flexibility and stability in a nice compact package.
For more than 100 years, YANMAR has crafted some of the world's most powerful, fuel-efficient engines. The 47.6-hp turbocharged Tier 4 Final diesel engine in the new ViO55-6A is no exception. YANMAR has also pioneered some of the industry's most innovative technology, including the first zero tail swing excavator. Today the ViO55-6A is one of the most rugged, flexible machines you can have to work effectively in the extremely tight spaces other bulkier excavators simply can't reach. Add the balance and stability of a conventional excavator and you've got one of the best values around.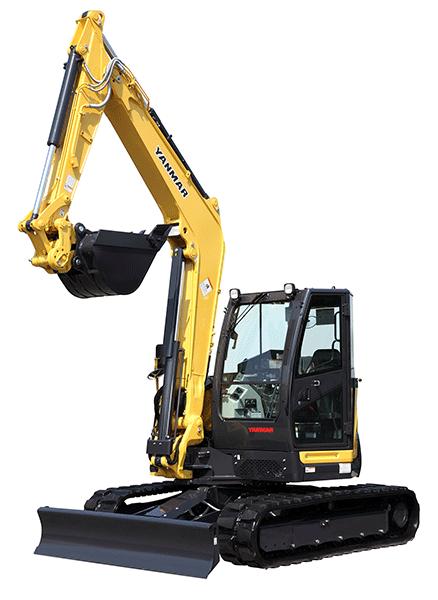 ViO80
Show up with the wrong equipment and it can be a really long day. The ViO80-1A, our largest true zero tail swing excavator, goes where bigger, clunkier machines simply can't. You get the flexibility to work effectively against buildings or obstacles without sacrificing the power to do the job right. The 56.9-hp Tier 4 Final diesel engine comes with Yanmar's legendary durability and fuel efficiency built right in. Couple that with unmatched operator comfort, ease of operation and simple maintenance and you'll always have the right machine for the job.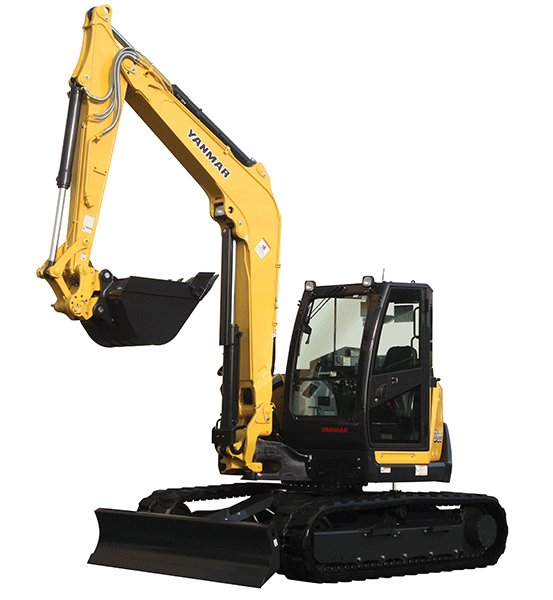 ViO100
Raw power in a surprisingly nimble package.
Don't underestimate the SV100-2A. Sure the new 72-hp Tier 4 Final diesel engine provides the raw power, digging force and lifting capacity you need for tough jobs. But the SV100-2A is also built to navigate those tight, confined jobsites from which bigger excavators have to meekly back down. In fact, the ultra-tightturning radius in both the front and rear is so small that the boom bracket stays entirely within the tracks. You get the versatility to take on any job, while leaving the limitations for those other excavators.
Yanmar Wheel Loaders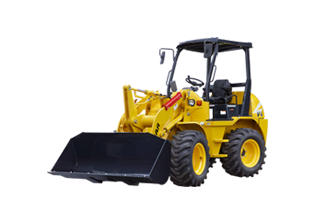 V4
Never met a challenge it couldn't handle.
Laying down the law on mounds of rocks and dirt, or quickly moving piles of fertilizer from point A to point B is easy when you're working with the power and performance of the V4 articulated wheel loader. Because it's a YANMAR, it comes with a powerful, fuel efficient 40.9-hp water-cooled diesel engine designed to handle jobs you might think would require a bigger machine. Couple that with a more comfortable, operator-friendly cab and this compact loader always comes up big when you need it most.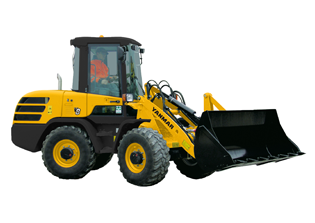 V8
Features
-Transverse-mounted diesel engine, high performance, minimized fuel – consumption, low emissions
-Hydrostatic travel drive, high traction power, infinitely variable speed control by driving automatics, optimum driving performance in all ground conditions, wear-free braking
-Powerful hydraulics, high lifting and breakout forces
-Excellent parallel kinematics for synchronized parallel operation of bucket and forklift attachment over the entire lifting height
-Ease of operation, hydraulic pilot control, multi-function joystick for intuitive control
-Ease of serviceability, long maintenance intervals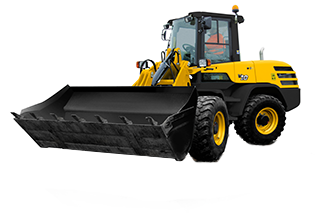 V10
Features
-Hydrostatic drive provides high speed, low torque when you are traveling across a jobsite, then changes to high torque, low speed when you demand greater traction and more power.
-Transverse-mounted turbocharged diesel engine provides
additional counterweight to the rear of the machine for greater stability and improved loader performance and provides ample access for easier engine service.
-Oscillating rear axle provides stable operation on uneven ground while maintaining 4-wheel traction for greater operator comfort and control.
-Single pin articulated joint provides a more stable platform and less need for adjustments and maintenance.
-Hydrostatic drive provides dynamic braking and helps increase service brake life.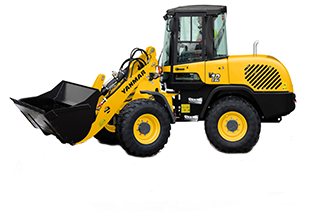 V12
Features
-Maximum visibility from the cab
-Easy-to-use quick coupler
-Excellent parallel kinematics
-2 doors
-Comfortable cab with responsive steering
-Easy-handling joystick with third and fourth control circuit in one hand
-YANMAR Smart Control (TSC)
-Excellent service access
-Central pivot with floating axle, the same as on larger wheel loaders
-Automatic self-locking differentials in both axles