S8 SUPER SERIES COMBINES
Over 9 decades the Gleaner combine has become known for its unique design and performance and many of those unique attributes remain in the S8 Super Series combine. The Gleaner performance comes from the combination of our own patented processes and components with a design unlike any of our competitors.
Key Features
Class Size
VI, VII, VIII
Rated Horsepower
322 – 430 hp
Maximum Boost
398 – 471 hp
Grain Bin Capacity
390 bu
Unload Rate
4.0 bu/sec
Threshing & Separation Area
6,047 in2
Weight
31,920 – 32,220 lbs



S9 SUPER SERIES COMBINES
Since the introduction of the S Series combine platform in 2011, Gleaner has built an incredible reputation for what is important to farmers when it comes to harvesting, such as capacity, grain quality, low loss levels, reduced compaction and serviceability.
The S9 Series is the culmination of millions of dollars of investment and a new generation of leadership that builds on the strong attributes of our previous models but adds more optimum harvesting performance, technology, comfort and convenience to take our current and future owners to a level not offered on any other combine.
Key Features
Class Size
VI, VII, VIII
Rated Horsepower
322 – 430 hp
Maximum Boost
398 – 471 hp
Grain Bin Capacity
390 bu
Unload Rate
4.0 bu/sec
Threshing & Separation Area
6,047 in2
Weight
31,920 – 32,220 LBS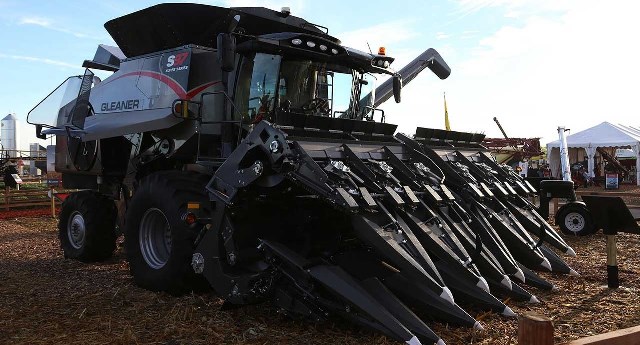 3200 SERIES CORN HEADS
Every operation is different, with different needs, and different crops. The 3200 Series corn headers are introduced to ensure that there is a solution for your operation to meet your specific needs. The 3200 Series is designed to provide industry-leading technology in the 6-row and 12-row folding segments for Gleaner combines.
Key Features
Row Spacing in (mm)
30 (762)
Rows
6-Row or 12-Row
Chopping Capability
Chopping or Non-Chopping
Folding Capability
Folding or Non-Folding
Weight lb (kg)
4570 – 9634 (2073 – 4370)

3300 COMMAND SERIES CORN HEADS
The Command™ Series corn head is a totally new AGCO® designed and built header that delivers increased capacity, faster harvesting rates and exceptional performance in downed corn with reduced header loss relative to both cobs and overall corn loss at the header itself. Take command of your harvest with the new 3300 Command Series corn heads from Gleaner.
Key Features
Rows
8-Row or 12-Row
Row Spacing in (mm)
30 (762)
Chopping Capability
Chopping or Non-Chopping
Auger Diameter in (mm)
20 (508)
Auger Pitch in (mm)
30 (762)

4300 PICKUP HEADS
Harvest is a fast pace environment filled with long days and late nights, and at Gleaner we understand that. Often times pickup headers are used in delicate, specialty crops with a short harvest window that bring a new set of needs and requirements into the picture. The recent introduction of our 4300 pickup header is designed to increase the profitability and comfort levels for those operators utilizing pickup headers to harvest their crop. We've taken the time to incorporate numerous features such as integrated auto header height and lateral tilt functions that keep the operator comfortable as the hours in the cab progress each day, and we've redesigned our draper belts to ensure feeding remains consistent even in the toughest, tangled crops while ensuring crop loss is kept minimal. Additionally, certain drive components have been updated to better handle the stress of a tough harvest without excess down time. You can rest assured the 4300 will help you get your harvest finished efficiently and comfortably.
Key Features
Header Size
15′
Picking Width
177″
Overall Width
209″

8200 FLEX HEADS
The Gleaner 8200 Flex auger heads feature smooth, aggressive feeding.
The 8200 Series headers are available in 20 ft. (6.1 m), 25 ft. (7.6 m), 30 ft. (9.1 m) and 35 ft. (10.6 m) cutting width to provide matched crop gathering capacity for the combine being used. The larger 8200 headers mean fewer passes across the field, which reduces soil compaction and improves harvest productivity.
Key Features
Header Width ft (m)
20-35 (6.1-10.6)
Cutter Bar
SCH
Auger diameter in (mm)
30 (762)
Auger Flighting in (mm)
7 (178)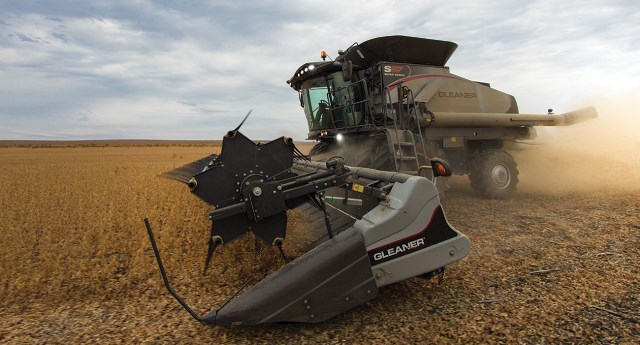 9255 SERIES DYNAFLEX DRAPER HEADS
The 9255 DynaFlex offers the customer improved performance in the field with increased reliability and durability to maximize harvesting uptime and efficiency.
We have added multiple new features to the 9255 such as a heavy-duty Hesston designed and built reel assembly and flywheel sickle drives providing narrower end shield profiles to maximize productivity throughout harvest. The 9255 retains the industry-leading features from the proven 9250 series, such as a fully flexible cutter bar with 8" of hydraulic travel, integrated 12 degrees of hydraulic tilt with mechanical driven cutterbar and draper belts.
The 9255 is available in 25, 30, 35 & 40 foot models to ensure we offer a flexible draper header to match any customer's requirement.
Key Features
Cutting Width ft (m)
25-40 (7.6-12.1)
Cutter Bar
High-Cacity or SCH
Cutter Bar Float in (mm)
8 (203.2)
Cutter Bar Drive
Single or Dual Mechanical